Specialties
I specialize in a vast variety of flawless and touch-friendly hair extensions on all hair textures and lengths. I always make it my goal to install extensions that are long-lasting and promote healthy hair growth. I consider myself as well as my clients to be a miracle workers when it comes to extensions. Sew-in Extensions (Full, Partial & Vixen Methods) Individual Row Extensions Tape Extensions Microlink Extensions Keratin-bond Extensions (U-Tip & I-Tip) Crochet (Faux loc, braids, & twist) Invisible Ponytails.
History
Established in 2005.
Over 15 years of experience in adding a little hair to people's lives and watching their confidence shoot up to the sky.
Meet the Business Owner
Iesha C.
I pride myself on my promptness, efficiency, and exquisite eye for detail. For over a decade, I have delivered professionalism, installed natural-looking extensions, and provided quality customer service to all my clients. I offer concierge mobile services to all my clients who want their hair done in the comfort of their own homes.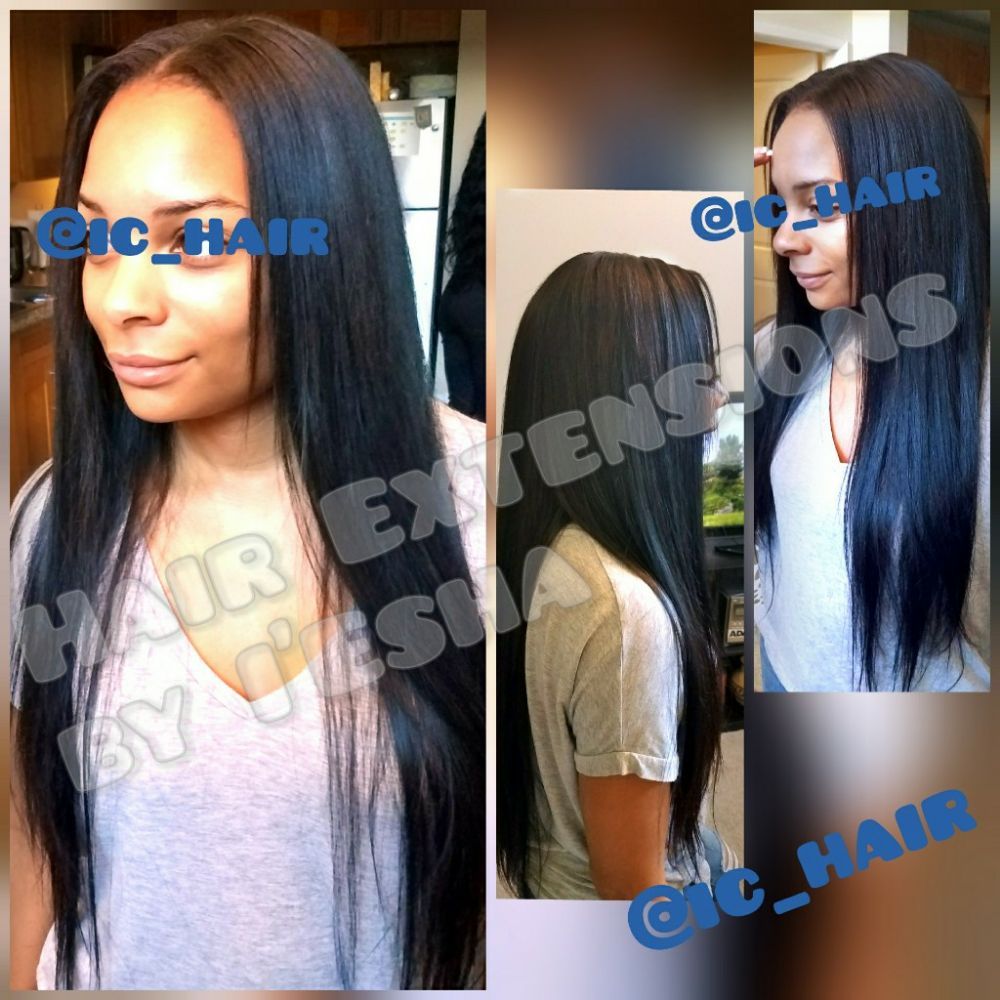 Full head Sew-in Extensions
Get that perfect natural look through our full-head hand sew-in extensions. Crafted by hand with care, the extensions can be strategically placed to make them virtually undetectable and weightless as well. Leave it to us to make you look totally fabulous!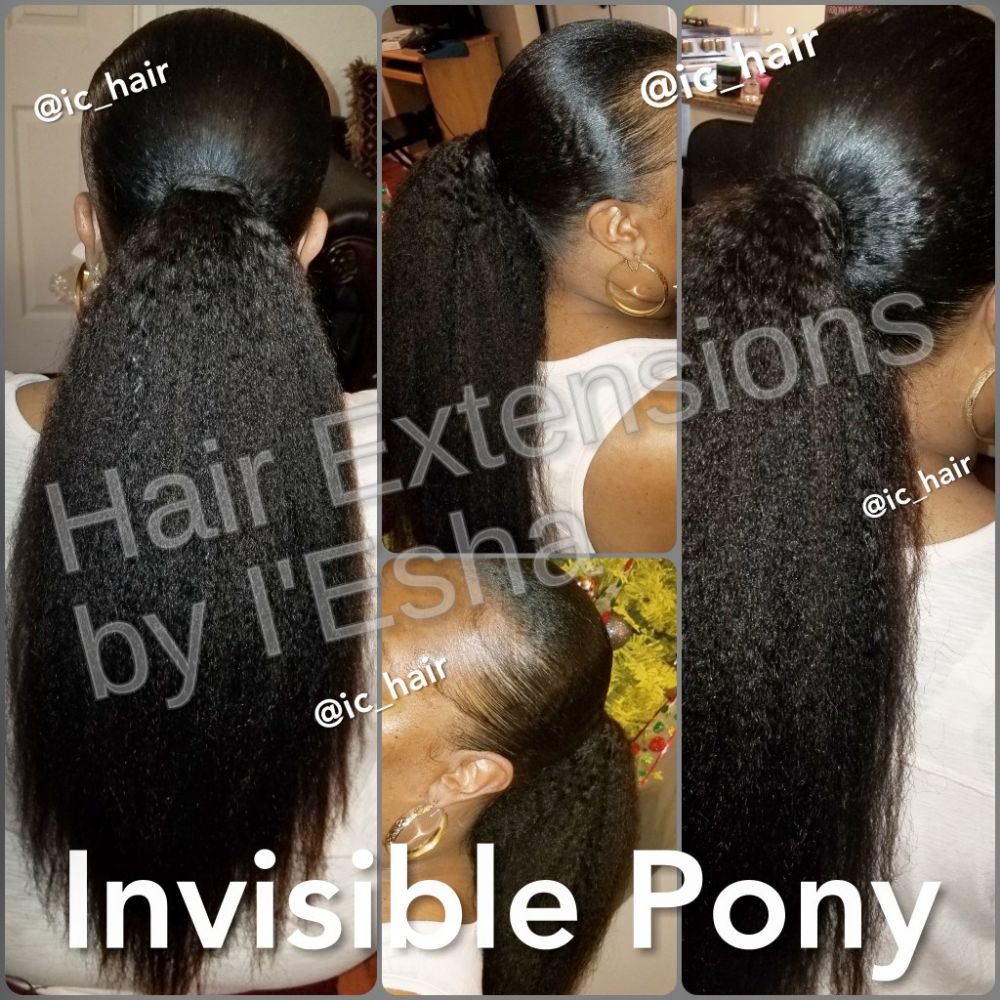 Partial Sew-in Extensions (half head)
A partial sew-in allows great room for versatility and experimentation. Whether you're going to go for a bun or a ponytail, what matters is that the overall presentation must appear natural and real.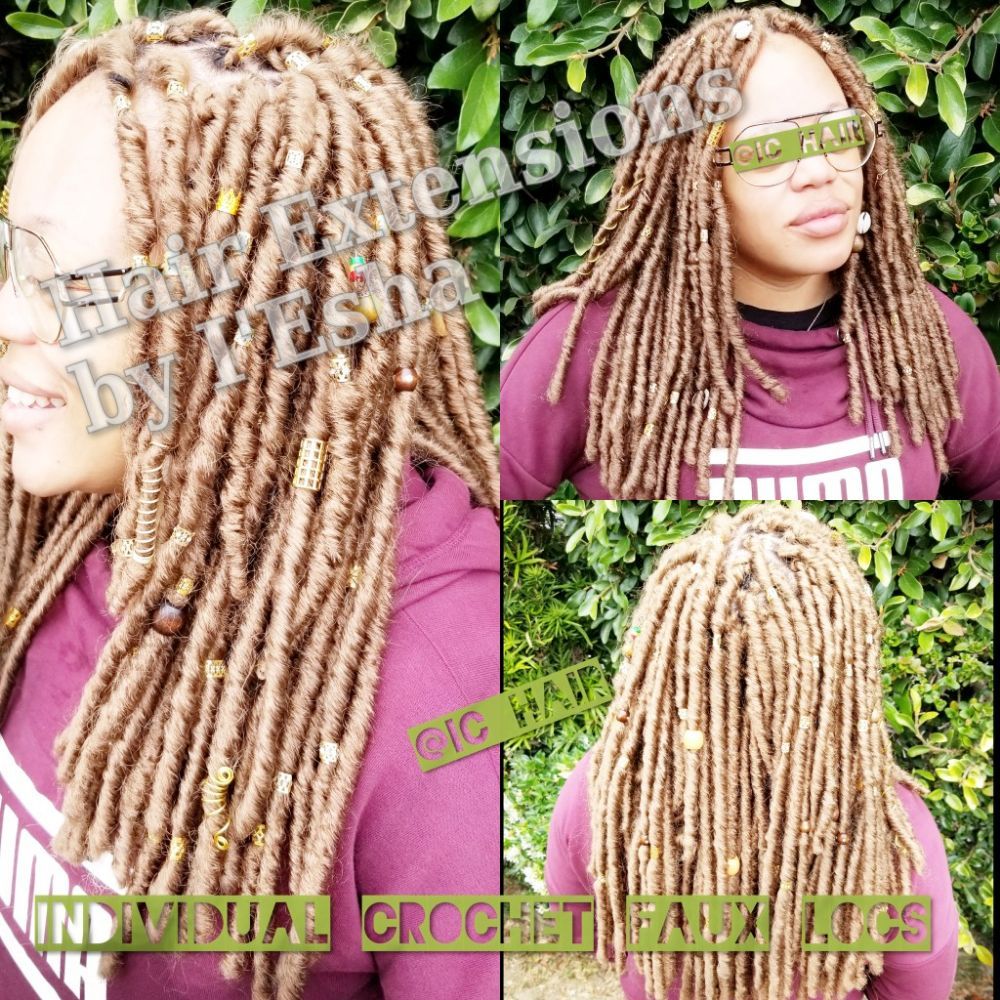 All Crochet (twist, locs and braids)
We have a wide range of gorgeous handmade enhancements that can be installed easily. Get that easygoing, and exquisite look without all the pain behind actually growing and maintaining locs.
| Service | Price | Duration | Category |
| --- | --- | --- | --- |
| Full head Sew-in Extensions | 275.00 | 0:15 | Full head Sew-in Extensions |
| I-Tip Microlink Extensions(per piece) | 2.00 | 0:15 | Full head Sew-in Extensions |
| Sew-in micro link Extensions by row (per row) | 60.00 | 0:15 | Full head Sew-in Extensions |
| Keratin U-Tip Extensions | 50.00 | 0:15 | Full head Sew-in Extensions |
| Partial Sew-in Extensions (half head) | 175.00 | 0:15 | Partial Sew-in Extensions (half head) |
| Tape in Extensions | 150.00 | 0:15 | Partial Sew-in Extensions (half head) |
| Sew-in Extensions tighten up maintenance | 50.00 | 0:15 | Partial Sew-in Extensions (half head) |
| All Crochet (twist, locs and braids) | 160.00 | 0:15 | All Crochet (twist, locs and braids) |
| Crochet with individual perimeter | 190.00 | 0:15 | All Crochet (twist, locs and braids) |
| Individual crochet | 300.00 | 0:15 | All Crochet (twist, locs and braids) |
| Crochet loose hair | 150.00 | 0:15 | All Crochet (twist, locs and braids) |
| Major Curl and style | 40.00 | 0:15 | All Crochet (twist, locs and braids) |
Address
Long Beach, CA 90814